*This blog post has been sponsored by Macy's*
A good girlfriend of mine always jokes that every time she comes over, she's going to be looking at all my shoes. I must admit, I have a weakness for gorgeous footwear! My mom once told me that if you believe in feng shui, you're not supposed to wear new shoes on your birthday, and admittedly, it's never been a rule I've been good at following. Instead, it quickly taught me to get into the habit of wearing all of my new shoes almost immediately after buying them, so that I could always put on any pair I wanted at all times. Afterall, life is too short, and you'll never know when you'll get to wear your favourite pieces again!

When I was a young teen living in Toronto, I went shopping in Yorkville with my sister. Back then there were only a handful of chic independent shops and luxury boutiques. I remember peering through the window display with cocktail dresses, colorful accessories, handbags and shoes. When I looked up, the Betsey Johnson sign stood out in black bold letters. Once I stepped in, I instantly fell in love. Betsey Johnson was the first label I'd ever seen with jeweled bracelet watches, but when you flipped open one the of the pretty gemstones, you'd uncover the face of a watch and could read the time, so it's no surprise I was captivated by so many of her shoes as well. So many of her accessories, handbags and shoes were beautiful, and celebrated what I translated to be a bold and classy woman who wasn't afraid to have fun.
I always felt a great pair of shoes would add that extra bounce in your step. That saying, "Great shoes will take you places" really does happen when you truly believe it, and what better way to get in the mindset, than to look the part. Elevating an evening look by accessorizing up is one of my favourite ways to dress, and a fantastic pair of heels is where I start.
These beautiful Blue by Betsey Johnson Gina Embellished Evening Sandals are perfect for those who appreciate glamour, yet suitable for those who have a minimalist style who uses fantastic accessories and a great pair of embellished heels to elevate their entire look. What I love about these evening heels is that they are incredibly affordable, comfortable and have the look of luxury without the expensive price tag.
For an evening date with my husband, I wore a white applique dress and ruffle bag. I completed my look with these gorgeous heels They have such an elegant and classic element to them that would also be perfect for evenings spent with my girlfriends, special events, baby/bridal showers, garden parties, afternoon tea and weddings. Since they're also comfortable, I know I'll be wearing them a lot this season!
To shop these Blue by Betsey Johnson's shoes, click on the image below. To see the collection of Blue by Betsey Johnson Shoes, visit Macys.com.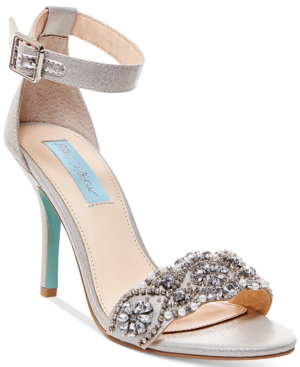 For more inspiration on style and travel, follow me on Bloglovin♥, Twitter and Instagram. Don't forget to subscribe to my mailing list for special announcements and exclusive content.
Xo,
Miki
Photo credit to my one and only, Rise Again BJJ